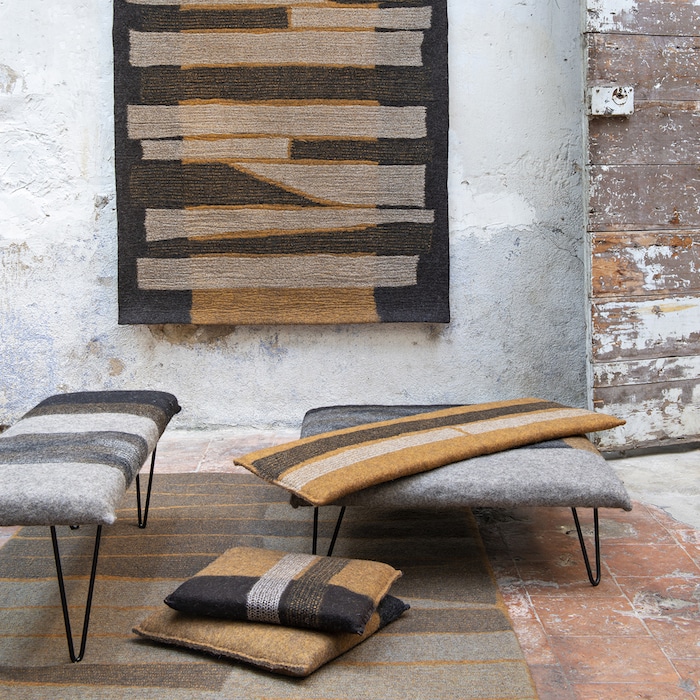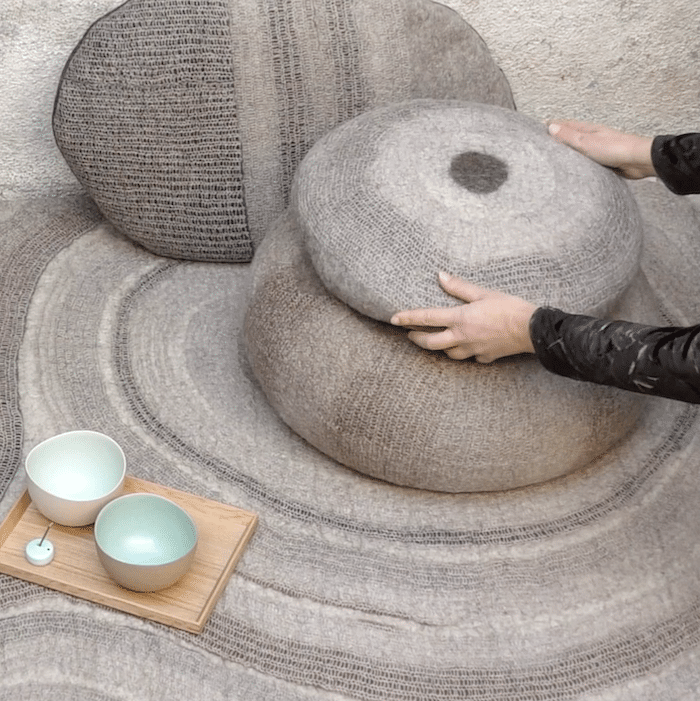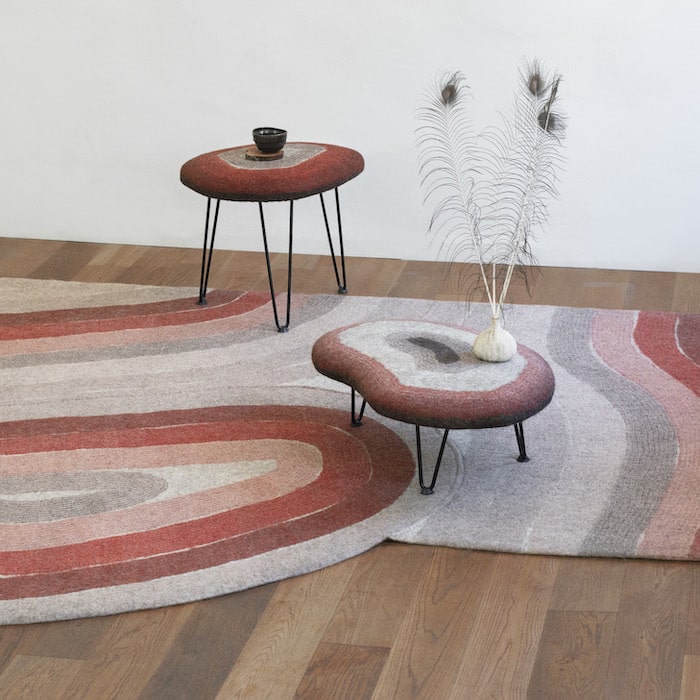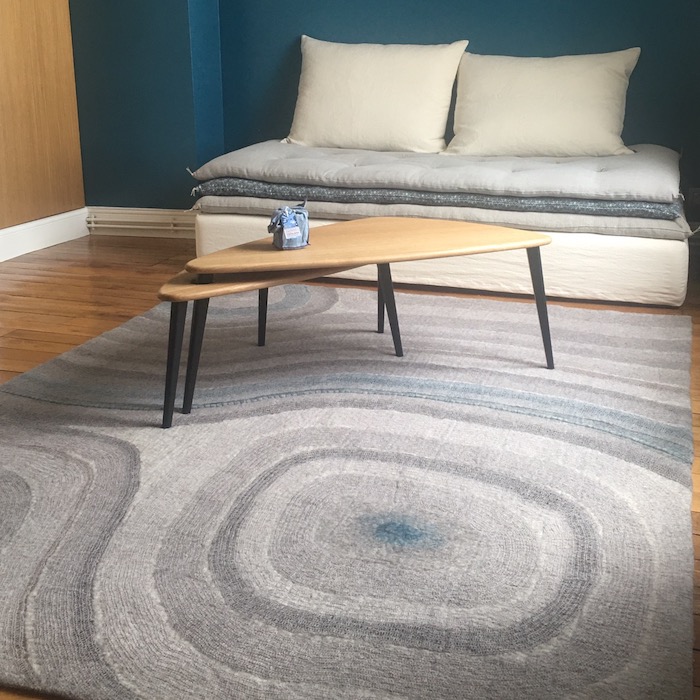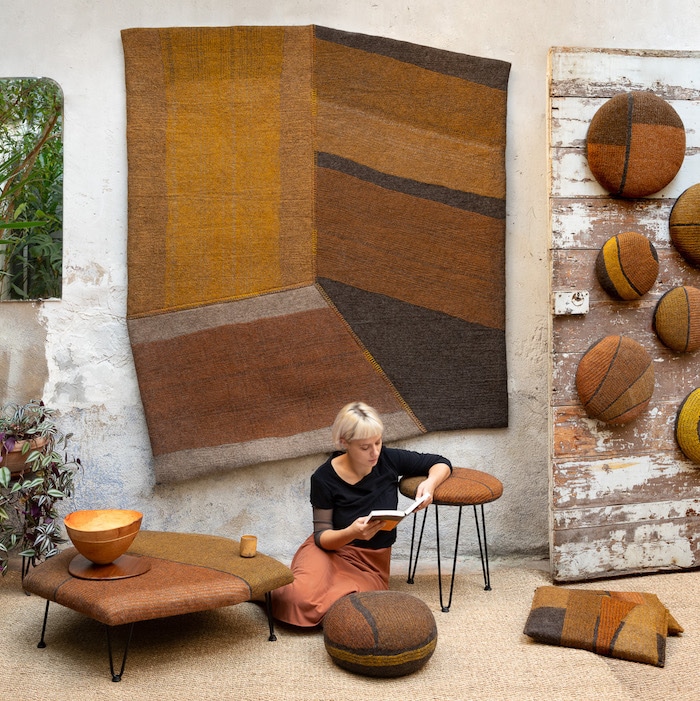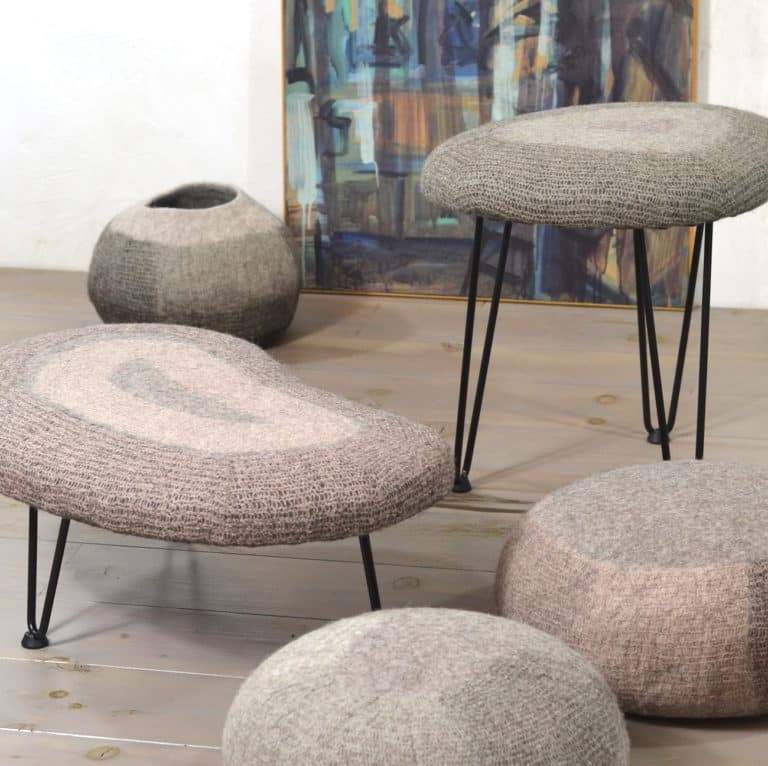 © Laure Melone © Nicolas Matheus © Ucila 
| RUGS | WALL HANGINGS | SMALL FURNITURE | SEATS | CUSHIONS | BASKETS |
| ONE-OFFS AND SMALL SERIES | MADE-TO-MEASURE |
maille & feutre, une signature singulière
maille & feutre, a unique signature
maille & feutre is the signature of our studio, where these two techniques meet. We design natural, elegant rugs and decorative objects with a strong identity. We value the wool in our handmade felts through an aesthetic and committed approach.
The workshop created in 2016 renews the traditional know-how of wool felt by combining it with knitwear in a new and contemporary style. Initially a simple artistic curiosity, the implementation of this demanding and inspiring practice has gradually become a passionate desire for research and creation.
The innovative fusion of the two materials and the dialogue of the two techniques results in a felt with a textured surface that surprises by its apparent novelty.
By working with the material, the play of textures and the search for harmonious colours, in particular with the introduction of vegetable dyes in her work, Ghislaine Garcin asserts aesthetic codes and an original identity in her approach to wool arts.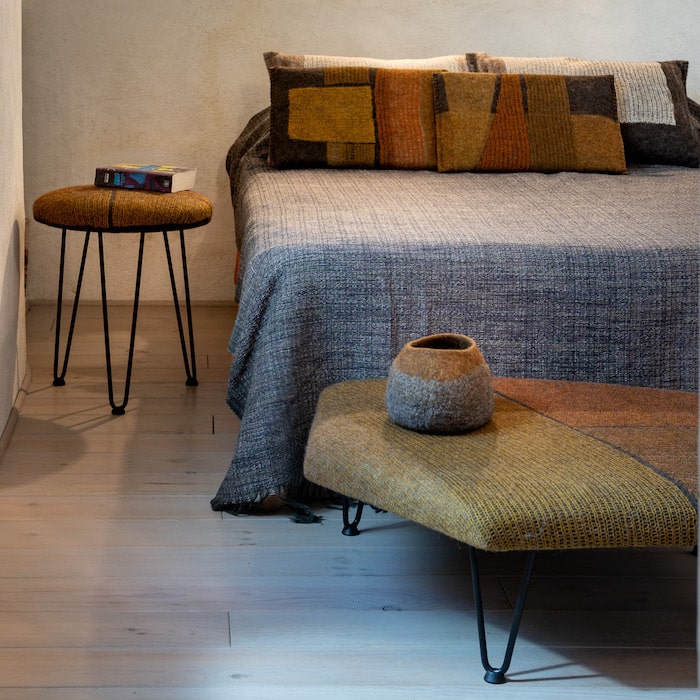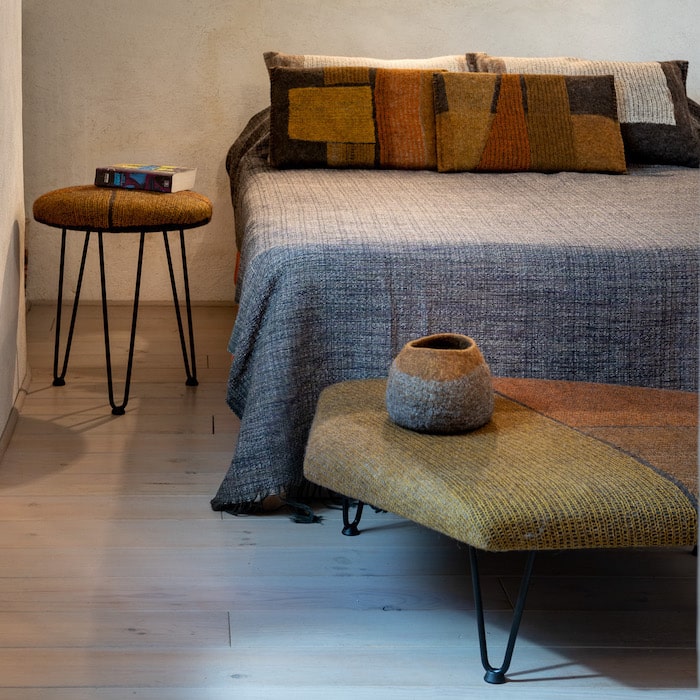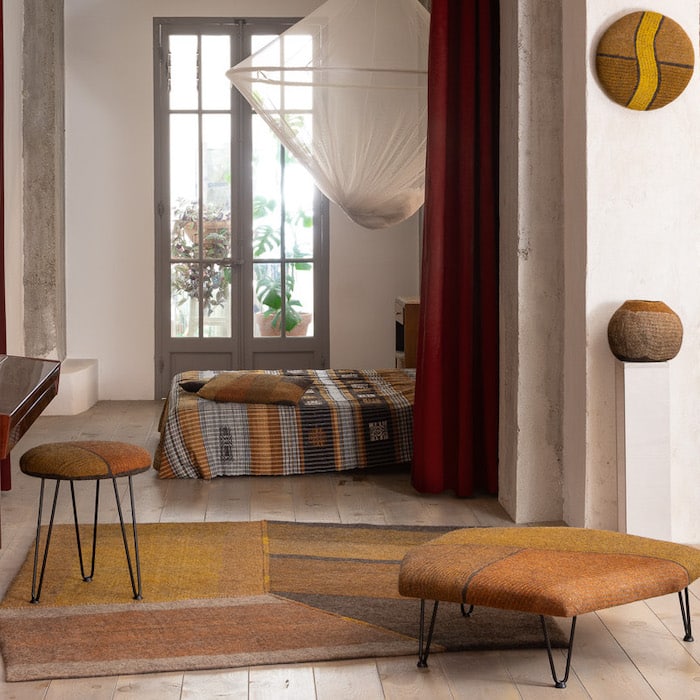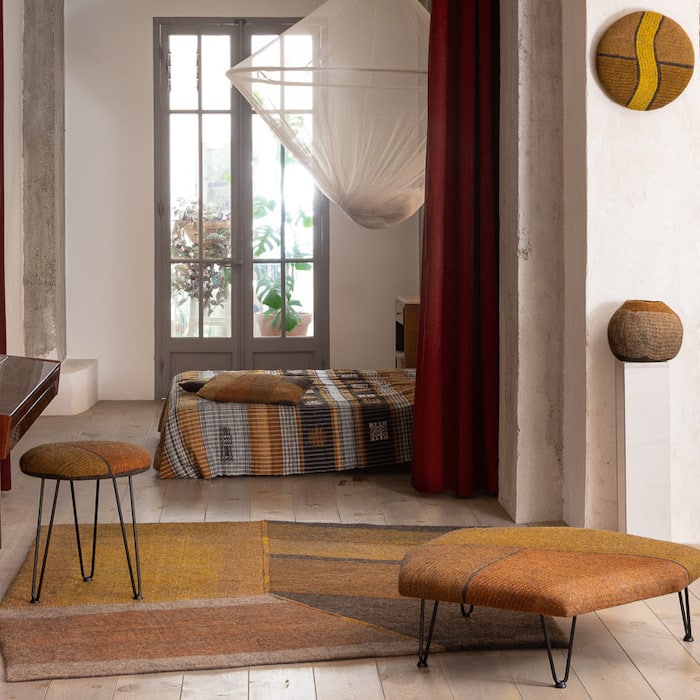 For decorative purposes, his compositions, carpets, wall hangings but also small furniture, guided by a spirit of elegance and authenticity are an invitation to refocus on the essential, sober and sensitive objects that accompany daily life and reveal the personality of our homes.
Made of handcrafted wool felt, tactile, healthy, warm and easy to maintain, they contribute to our comfort and serenity.
Wool, noble and generous, protects our living spaces as well as our environment by its natural properties and its sustainability.
In a context favourable to more conscious consumption, Ghislaine Garcin is part of an approach that defends natural materials, handmade products and pays particular attention to manufacturing conditions, the origin of materials and the welfare of animals.
The workshop is dedicated to custom-made products in order to respond in a personalised way to the requests and projects of individuals and decoration professionals.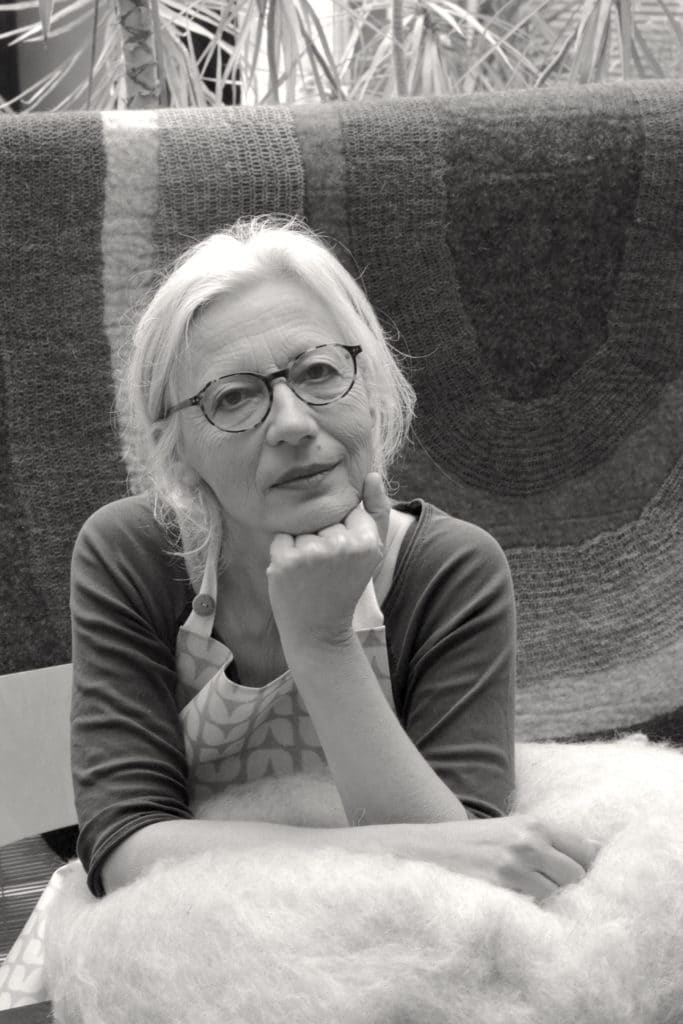 After starting out as a graphic designer for the press and publishing industry, Ghislaine Garcin, lifelong fan of textile creation, decided to devote herself to her passion. Sensitive to the gesture and the work of the hand, she decided to turn to art crafts.
A strong preference for the transformation of wool led her to explore in turn knitting, weaving, embroidery, before discovering the technique of felting. After training with fellow artists, she founded her own handmade felt rug studio in 2016.
"Creating with respect for time, materials and environment because a handmade object is unique and promotes the preservation of know-how.
We design and manufacture according to an entirely artisanal method that favours time, local-made and know-how. The very repetition of the gesture and the slowness of professional time are a source of satisfaction because the practice takes root, transforms, evolves and allows the material and know-how to be appropriated."
| Suivez-nous sur les réseaux sociaux |